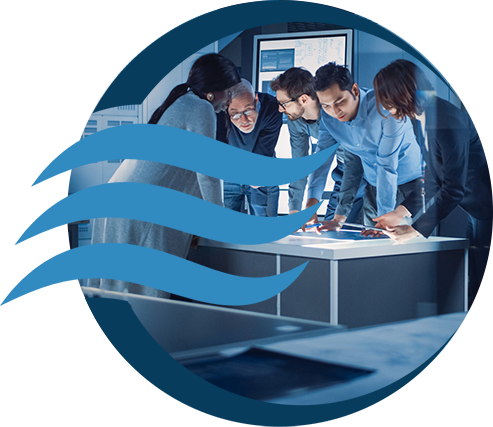 For 25 years, 3Flow has been the leader in systemic analysis, testing, design and management of airflow system for critical indoor workspaces and mixed-use facilities.
3Flow is the co-creator of Smart Labs, the leading protocol for safety and energy efficiency in airflow infrastructure. Our leadership and innovation in consulting, testing, products and training provides advanced airflow and ventilation solutions for a diverse range of industries and indoor environments.
World class organizations, including the EPA, DEA, Los Alamos Laboratories, NC State and Stanford University have relied on 3Flow to improve on-site safety reduce energy consumption by optimizing Critical Airflow Systems.
Our team

The 3Flow team is comprised of seasoned experts with decades of experience in airflow systems engineering, airflow and ventilation safety, building construction and retrofits, product design, testing and training.
Thomas C. Smith
President & CEO
Acknowledged thought leader in laboratory safety, efficiency and sustainability. Former Chairman/Vice Chairman of multiple ASHRAE and ANSI safety groups.
Thomas Checksfield
Senior Vice President, Business Operations
30 years ventilation safety & energy management in labs and critical workspaces. Prior roles at Siemens, Inc. and Tek-Air.
Robert Lukens
Vice President of Services and Products
30 years of construction operations and management experience. Prior roles include President of LCC, Inc, specialists in custom renovation & retrofits.
David Brummitt, CIH, CSP
Laboratory Safety Services Manager
25 years of environmental health and safety training and implementation.
Gary Goodson, PE
Energy Services Manager
18+ years ventilation systems design & implementation.
Join us

We are always seeking talented individuals to join our team. Please submit your resumé and contact details below. 3Flow is an equal employer.