Date
Nov 06 2019
- Nov 07 2019
Time
EST
8:00 am - 4:30 pm
Cost
$1,750.00
2-Day Fume Hood Testing, Maintenance and Management
Who Should Attend?
Building managers, maintenance, EH&S, TAB and Commissioning personnel, fume hood testers – anyone responsible for ensuring performance and safety of laboratory fume hoods.
Course Description
This in-depth two-day course will provide the ability to analyze fume hood types and specify appropriate tests for VAV and CAV systems as described in the ANSI/ASHRAE Standard 110-2016 "Methods of Testing Performance of Laboratory Fume Hoods". The course is comprised of both classroom lectures and hands-on lab sessions for combining theoretical and practical knowledge. Laboratory sessions include conducting a series of fume hood operational and performance tests in addition to diagnosing hood performance issues when subject to common challenges.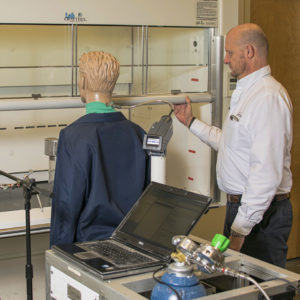 Topics covered in the course include:
• Fundamentals of Laboratory Ventilation
• Fume Hood Types
• Operational and Performance Tests
• Collection, Analysis, and Management of Test Data
• Troubleshooting Common Problems
Upon completion of the course, attendees will have the option to register to take the Controlled Environment Testing Association (CETA) National Board of Testing (CNBT) fume hood exam offered on Nov. 7th. at 8:00 am in the 3Flow Training Center.  Information regarding the test, certification, and costs can be found on the CETA website.  Test registration and fees should be coordinated directly with CETA and are not a component of the fume hood course and instruction.
Register